JT's Mega-Steam is in full operation mode and in production with all product available.

The recent TCA York cancellation allows for a large inventory of products. Our strict manufacturing guidelines assure high-quality control in a sterile environment which is virus free. Our products are proudly made here is the U.S.A. and are not reliant on any foreign labor, supplies or materials. My God bless everyone as we work together to get through this frustrating and difficult time. Contact us for further information

Jeb & Nancy Kriigel/JT's Mega-Steam
See JT's Mega-Steam in Action:


New Tips from JT's Mega-Steam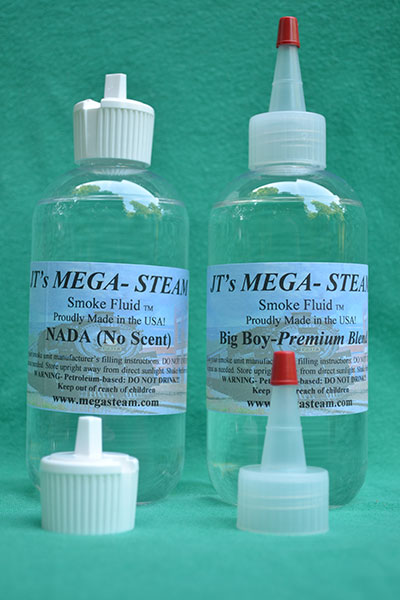 Mega-Steam is now offering special tips for the 8 oz refill bottles. In the past you were on your own to deal with pouring smoke fluid into the smaller bottles and applicators. Now the refilling task is easy with these special caps that fit all of the Mega-Steam 8 oz bottles. Two types are currently available: a flip top spout that locks when closed, and a snap top funnel that serves several applications.
b-Gone Cleaner New!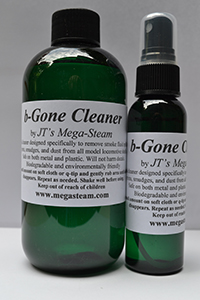 Cleans smoke fluid spills, finger prints, smudges, etc.
Removes dust and grime without leaving residue
Safe on all plastic and metal locos and rolling stock
Will not harm decals or finish
Environmentally friendly - no harmful chemicals
Convenient pump-spray bottle
Developed, tested, and packaged in the U.S.A.
BIG BOY - PREMIUM BLEND New!
Mega-Steam is proud to announce the premier release of a brand new smoke fluid scent commemorating the arrival of the exciting new Vision Line Big Boy models. Called "Big Boy - Premium Blend", the unique scent was specifically designed to pay tribute to those grand Union Pacific locomotives. These giants of steam were coal burners and consumed huge amounts of fuel. Mega-Steam's unique blend replicates the scents of coal, hot oil, with hints of smoke, cinders, ash, and steam for a prototypical scent that is sure to please. Available now.
SEVEN NEW SCENTS AVAILABLE!
Announcing seven new scents in time for the holiday season:
Lavender Dream --pleasant aroma known for its calming effect.
Leather Obsession --everyone's favorite enchanting smell.
Bubble Gum --rich sweet smell; just like Bazooka!
Blueberry Thrill --anything and everything blueberry!
Campfire --romantic smell of burning autumn leaves.
Clove Sensation --a magical spice aroma.
Peppermint Pattycake --that perfect round chocolate mint candy.

Winter Weather Note
Sometimes freezing or slushing of the smoke fluid can occur during winter shipping. No worries. Just allow to thaw at room temperature. Shake well before using and all will be fine!

-- JT's Mega-Steam Quality Control Team
From a previous ad appearing in O Gauge Railroad Magazine: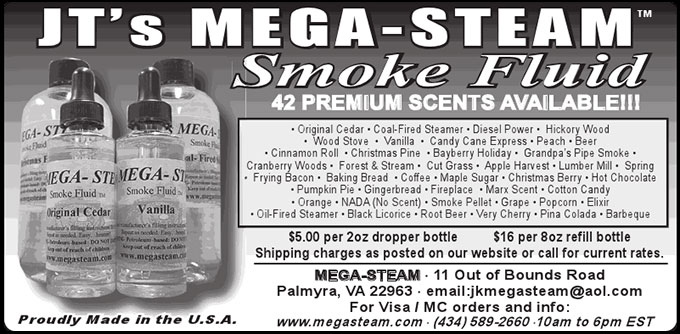 Check out our new product:
ELIMINATOR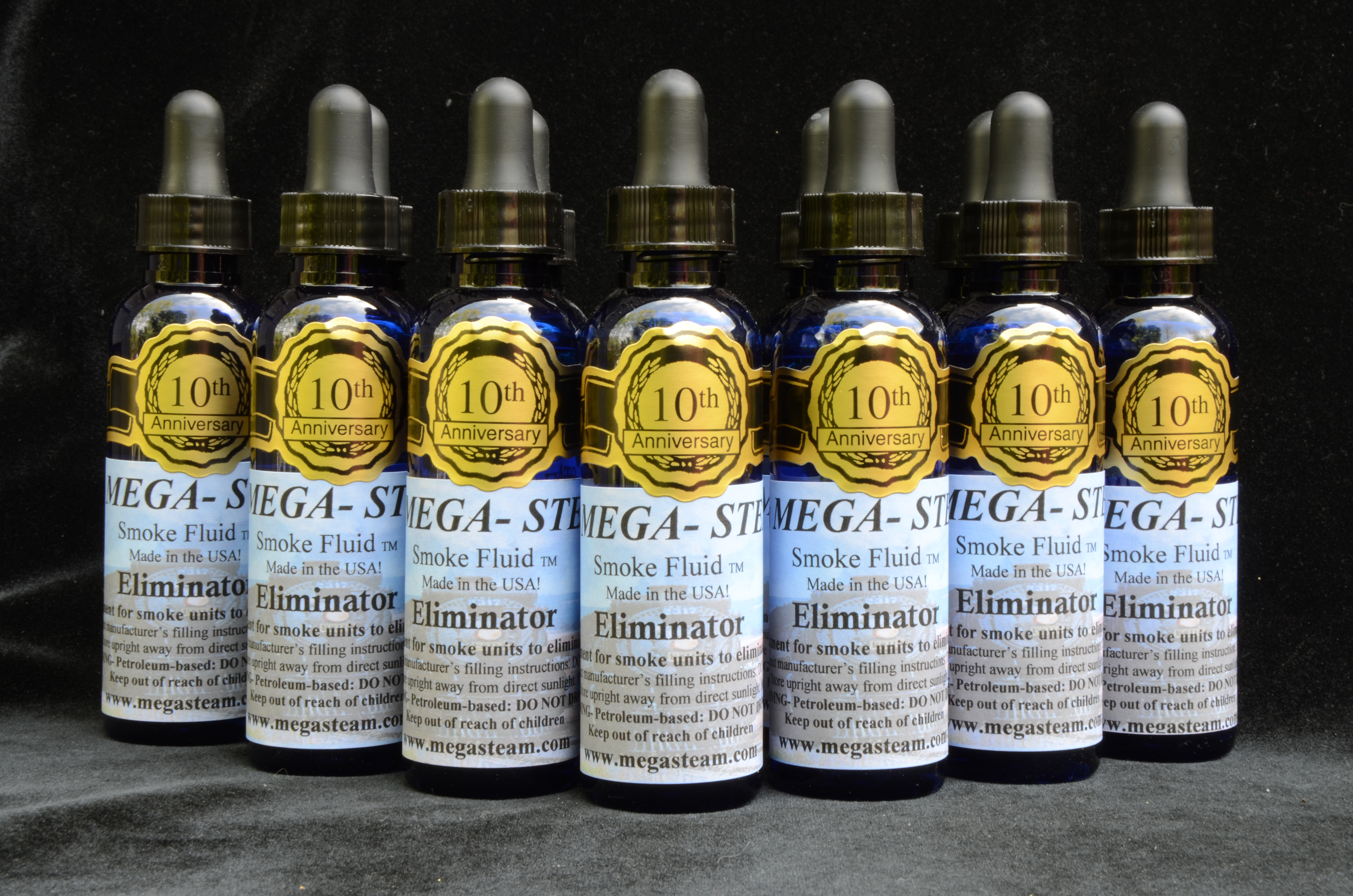 Special Treatment for smoke units to eliminate bad smells. Safe in all smoke units and compatible with all JT's Mega-Steam scents. Use like smoke fluid. Add 15-20 drops to smoke unit to cleanse the unit. Results are usually achieved in 3-4 filling cycles. Use as needed to keep your locomotive's smoke unit smelling clean.
Also...our popular addition...
Ultra-Fine Point Precision Dispensers!!!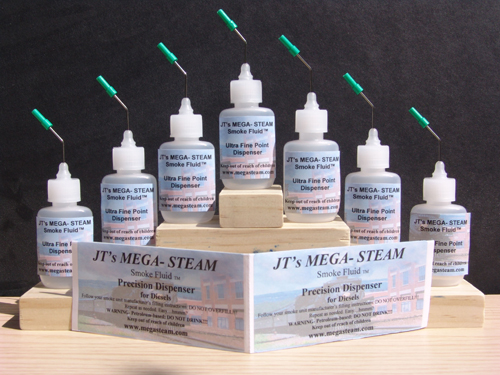 Especially designed for diesels and the new Legacy-type locos!!! Designed so that the smoke fluid can be dispensed precisely into the smoke unit, it can be used for any application requiring precision filling. The ultra-fine needle point requires just a small amount of pressure to release the smoke fluid. The custom 45 degree bend makes filling easy from the side of the locomotive and prevents overfilling.
$6.50 each
You'll find them on the "Ordering" page!!!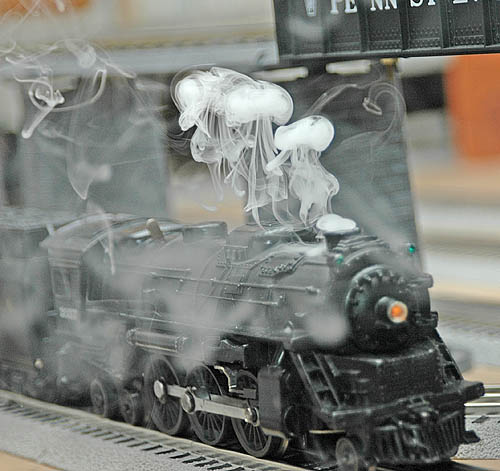 Proudly Manufactured in the U.S.A.

SPICE UP THE "ENVIRONMENT" OF YOUR LAYOUT WITH OUR GREAT SELECTION OF 50 DIFFERENT SMOKIN' SCENTS!!!

JT's MEGA-STEAM Smoke Fluid

TM!!!! Thick, dense smoke output yet it dissipates quickly, leaving little or no "train room fog" hanging in the air. NON-TOXIC. Comes in 2oz bottles with "pin-point" end glass droppers for accurate filling or the 8oz refill size. All of our smoke fluids are scented just right, not too heavy, not too light***. Petroleum-based formula. Smoke itself is non-toxic... though I wouldn't suggest drinking it.Works great with most smoke units (some Suethe unit users, G gauge, and HO users so far have reported success using Mega-Steam).

With our variety of smoke scents we have something for everyone. There's our classic scents like Original Cedar, Coal-Fired Steamer, Hickory Wood, ect. There's our "family friendly" and Christmas scents such as Vanilla, Christmas Pine, Candy Cane Express, Gingerbread, Maple Sugar and more.


Then there's our specialty scents which were designed to scent the "environment" of your layout. For example, do you have a layout with lots of mountains and trees? Our Forest & Stream or Spring scents were designed for use in a mountain cabin with a smoking chimney or smoking campfire accessory to bring your trees and mountains alive with the smell of the great outdoors. Or how about our Fireplace scent in the smoking hobo campfire accessory?


Do you have a working logging railroad layout with a sawmill? Try the Lumber Mill scent in a smoking accessory weaved into your mill area. Your sawmill will smell like it's busy cutting up fresh wood into new lumber.


Have a smoking Diner/ Restaurant accessory? Try one of our specially designed Diner & Food scents like Frying Bacon, Baking Bread or Coffee.

***Scent and smoke may have a short break-in period and will become
more pronounced as previously used smoke fluid runs out.
Depending on the scent, it could take anywhere from 4 - 8 fillings.


Do not use smoke units around people or children w/ asthma or other respiritory sensitivites.