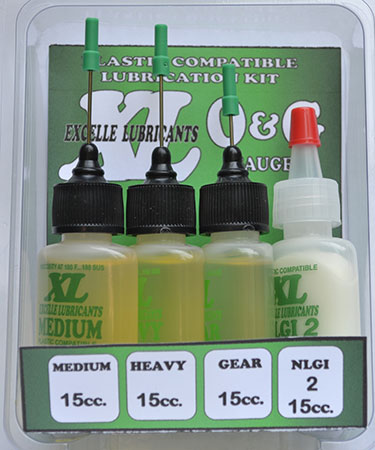 NEW!
Excelle Lubricants:

"For the Model Railroader that demands excellence for their motive power!" Produced by Phoenix Unlimited, LTD. Dedicated to keeping the world well oiled and running smoothly since 1962!

JT's Mega-Steam is proud to be a distributor for these fine products and make these available to our customers.

Lubricants can be purchased in the convenient 4-pack or purchased individually. No longer will you have to search for several different products and containers for your model railroad's lubrication needs. All lubricants feature precision bottles and are plastic compatible, conductive, and eco friendly; and all are made in the USA!

4-pack contents:

Medium Oil: Medium viscosity oil. Conductive. Plastic Compatible. For general use and on wheels and pick-up rollers.
Heavy Oil: Heavy viscosity oil. Conductive. Plastic Compatible. Use on motor bearings and running gear.
Gear Oil: 100% synthetic. Conductive. Plastic Compatible. Extremely stable. Will not sling off gears or sliding parts.
NLGI 2: Grease.Tacky water resistant white lube. Contains PTFE which cuts friction by 50%. Plastic compatible.