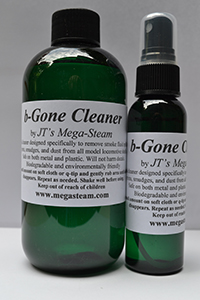 New Product: b-Gone Cleaner


When Spills Happen...Reach for b-Gone

Sooner or later everyone has a smoke fluid spill, a finger print, or a smudge on their locomotive or rolling stock. As careful as we are...it happens. Mega-Steam is pleased to announce that we have come up with the perfect solution to clean those spills, finger prints, smudges, etc., and, above all it is safe on plastic and metal. It will not harm the finish, paint, or decals. Our new product is environmentally friendly and safe and contains no harmful chemicals. And, it even comes in dark green bottles so that it is not to be confused with our smoke fluid line of products. We even provide a convenient pump-spray bottle. (larger refill bottles are available.) Don't risk cleaning your trains with harsh chemicals or solvents...choose b-Gone!